We did good last Saturday!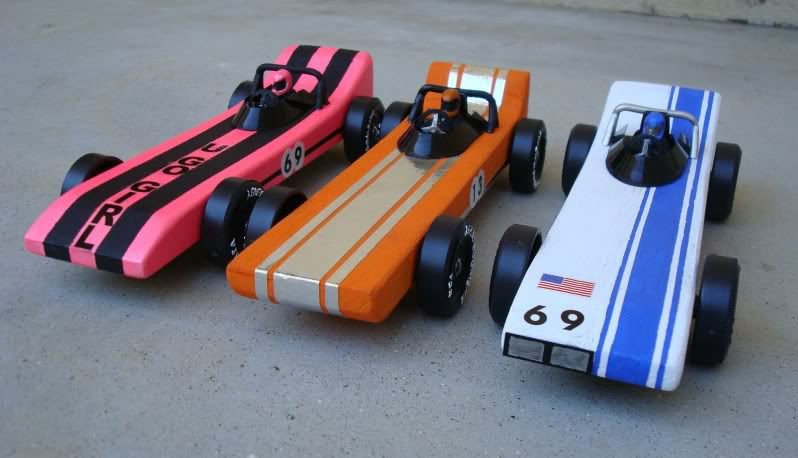 My fiancee's son and I worked on his car off & on for 4 months during the winter. We built the "Dustinator" (The orange one) with the tools in my garage. No specialized PWD tools were used.
The alignment check consisted of rolling it across my kitchen counter.
Our "All Comers" were built the same way.
Dustin's car had the 2009 wheels, the other two were built from older kits.
At check-in, all three cars were weighing in at 5.05 ounces, but we had planned ahead with "break-offable" weights in front of the rear axles.
Later that evening, I realized they were not checking to see if all 4 wheels were making contact, like it said in the rules that were given out. Oh, well. At least I know all of ours were.
No other Scouts in Dustin's Den were racing, so he was grouped in with the Weeblos. Dustin crossed over to Boy Scout last month. There was a campout at Scoutland on the same day as the PWD, so that probably caused parents to skip the Derby. We did both.
Dustin's car was doing really good and winning every race, but then his car had an abrupt stop and spun off the track about 1/3 of the way down lane 1.
I took a closer look at the track during a break and saw that the rails were not lined up. I'm guessing Dustin's car was an accidental rail rider until it hit the gap between track segments. I could also see the front end of his car jump up halfway down lane 2.
Lane three was golden, though. I can't remember losing a race when he were in lane 3. The Dustinator's only loss in the den races was when it went off the track. In the pack races, it never finished lower than 2nd, despite hitting the rail edge and bending who knows what.
Dustin won 1st in the Den race and took 2nd overall in Pack, so it's off to districts next month.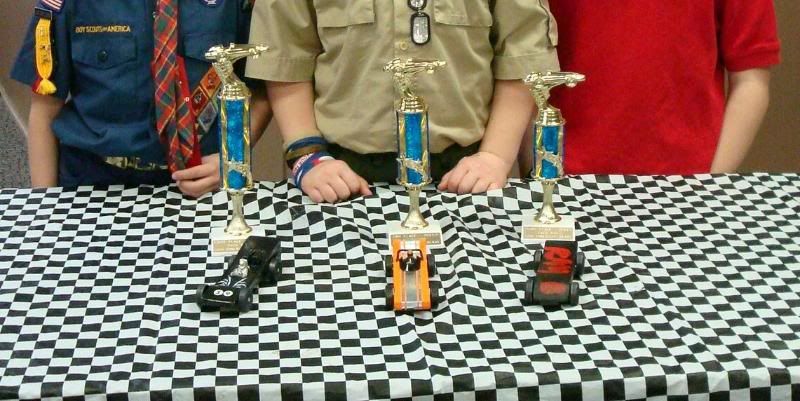 His car was impounded, but we'll get to look at it the day before districts, which will be at "Scoutblast." (April 17th) I'm thinking one of those alignment checking tools that they sell at the Scout Store might be a good investment now.
The "All Comers" only had three entries. My "Patriot" took first and the fiancee's "U GO GIRL" took third, even though I built them as identical as possible. (She did paint hers, though)
We "grudge-raced" my "Patriot" against the overall winner "Viper." My car came in 2nd. A very close 2nd! And that ended an exciting/dramatic race day.
We're very proud of Dustin's handiwork this year. He did a LOT more on this car than on his previous ones. He got to use a die grinder to cut the home made steel weights we installed behind the rear wheels and he spent over an hour polishing the axles. About 45 minutes into it, he was kinda glaring at me, but I think he understood how much it paid off on race day. He liked how the wheels kept spinning...and spinning on the stop ramps.
P.S.
Scoutblast is having a "Cheaters & Speeders" race for the adults, so I'm working on two more "His & Hers" cars for a rematch.