Below is a circuit for a start gate operated by GPRM via the serial port.
12Vdc will be supplied via a 12Vdc AC adapter (500mA or greater). Most people probably have one kicking around or you could order one such as this
12Vdc AC adapter
. Note which size plug it is using. This one is using a 2.5mm, so I would need a 2.5mm female jack such as this
2.5MM DC JACK, PANEL MOUNT
.
C1 is a
3300uF capacitor
and is used as low-pass filter to clean the 12Vdc power.
S1 is the solenoid. I have two options.
This one
has a 1/4" pull or this
door lock actuator
which has a 3/4" pull. NOTE: Solenoid did not have enough power - ordered
this one
instead
D1 is a
diode
and is reversed biased in the circuit. It is used to shunt the current developed as the field of the solenoid collapses.
Q1 is an
N-channel MOSFET
and is used as the switch.
R1 is a
100k resistor
and is used to prevent noise for triggering the MOSFET.
D2 is another
diode
and is used to prevent current flow towards the serial port on the computer.
I have also incorporated a
normally open momentary switch
(SW1) that can be used to "manually" operate the solenoid.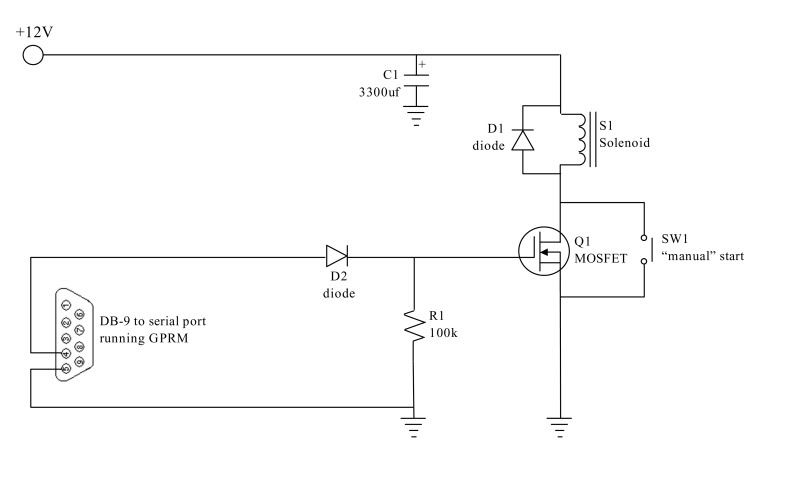 Operation is as follows: The +12v will be applied to the circuit but will sit on the drain of the Q1 MOSFET. GPRM will send the open start gate command to the gate on the MOSFET via pin 4 of the DB-9 connector. One this voltage is applied to the gate of Q1, Q1 will allow current flow from the drain to the source. This will activate the solenoid, allowing the start gate to open. Once GPRM stops sending voltage to the gate of Q1, Q1 will stop conducting and the solenoid will return and it's collapsing field will be shunted via the D1 diode.
This can easily be modified to have a light tree trigger the solenoid vice GPRM.
My plan is to integrate the wires from pin 4 and pin 5 of the DB-9 into the wires running between the RJ-11 jack's used for the gate switch on the Microwizard timer, such that I only have one 4 conductor wire running between the start gate and the timer. Then one serial cable from the timer to the computer.
What do you all think? Is there anything I am missing or other things I should integrate? This should me a relatively inexpensive mod for my track. Should be about $10 in parts plus shipping costs.
I am not sure what "device" the solenoid will pull on to open the gate. I like the
lever Sporty is using
but I'm not sure where I can pick one up. I could easily make something I suppose.