Happy Birthday Speedster and Anniversary to you Bill & Sharon.
Hope it's a good one !
Speedster I know your into helping kids make these cars.. just about as much as I am!
You may recall the vintage Boy's life car I first shared pics of here on Derby talk !
Well don't know if I've ever told you that I had help making this car In Memory of Don Murphy with the kids of Cub Scout Troop 189 in Hugoton ,KS
The kids and I built this car at my first workshop with them .. the colors of the car was inspired by the Pinewood - A Game with a Purpose image.
It was raced for the 100th Anniversary to Scouting ..The car ran an avg time of 3.088 at 160.1 on the pack's 35 ft best track!
Later it was raced at WIRL on April 17, 2010 with an avg time of 3.674 . I believe it was a 45 foot track.
I also gave it one last run at Mid America this year down their 45 ft test track. Best track single run 3.458 on 8 penny finish nail axles and no graphite lube.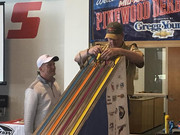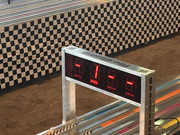 Well Bill.. never once did the kids and I give much thought to where the car would end up when we made it together.
Today the car can be seen here:
https://www.pinewoodpro.com/pinewood-derby-museum.php
The three images are some images that Joe of Pinewood Pro shared with me of the museum.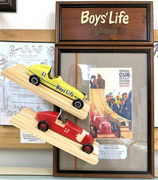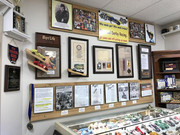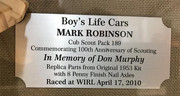 Happy Birthday Bill and Anniversary to you and your wife !